Piedmont Park Thunderbirds
The Pathfinder Club is a church-centered spiritual-recreational-activity program designed for young people from 5th grade up to high school. 'Pathfindering' appeals to this age group because its program features activities that meet their needs and interests.
MEET OUR STAFF
Joshua Kittleson, Director (402-489-1344) & Alexa Hazelton, Deputy Director
Staff: Chris Hausted, Ashton Huntsman, Eathan Lindbeck, Alex Stout, Trystin Somers, Christian Beard, Cat Singh
Kid's safety is one of our top concerns, so we require our volunteers who work with children to complete Verified Volunteers. Click here for instructions.
2024 Pathfinder International Camporee Fundraiser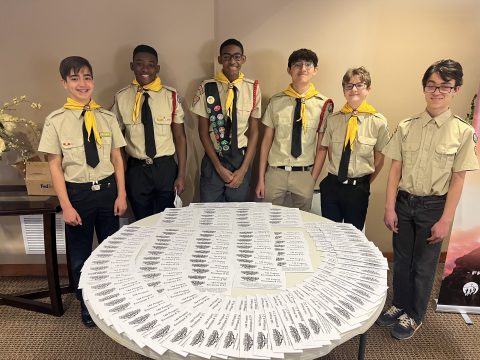 The Piedmont Park Thunderbirds are preparing for the 2024 International Camporee, which will be in its new location, Gillette, Wyoming. You might remember the church and community helped the Pathfinders when they attended this same event in 2019. This event happens every five years. Pathfinders come from all over the globe, with approximately 105 countries represented. It is a fun, spiritual, rewarding, and memorable experience they will take with them for years. They can collect pins and exclusive honors only available at the International Camporee.
For this to become a reality, the Pathfinders need to raise $20,000. Our Pathfinders want to extend this experience to another group of young people. So they are hosting a Pathfinder group from Puerto Rico. Extra funds will are needed to provide the group with tents and camping equipment. One way you can help in this endeavor is by picking up an envelope off the table in the lobby. There are 144 envelopes marked with a number 1 through 144. Suppose all of those envelopes are utilized and sent returned with funds listed on them that provide the Pathfinders with over $10,140 towards their goal of $20,000.
Please consider and pray about helping our Pathfinders, and their host club, make it to Camporee! You can also give through the following methods:
Online through the Adventistgiving.org website
Tithe envelope and mark it, Pathfinders
Mail a check to the Piedmont Park Church, 4801 A Street, Lincoln, NE 68510.
2023 Calendar